FSB Insurance Service Helps Trouper's Bar Recover from Flooding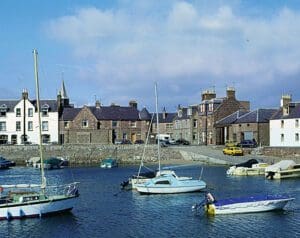 FSB Insurance Service provided crucial support to Trouper's Bar, a business located in Stonehaven, Aberdeenshire, after it was severely affected by flooding caused by torrential rain in Scotland. Despite facing the challenges of COVID-19 lockdown, Trouper's Bar was determined to keep its operations running. However, the flooding caused extensive damage to the bar's flooring, necessitating immediate action to minimize losses.
The Story of Trouper's Bar:
Trouper's Bar, owned by Simon Cruickshank, is a popular establishment in Stonehaven. After enduring the hardships of the COVID-19 lockdown, the bar had just reopened when it fell victim to the heavy rains and subsequent flooding. The damage inflicted by the flooding required a significant cleanup effort and the use of dehumidifiers to restore the premises.
The Challenge of Flooding:
Simon discovered that his business was located in a high-risk area and was unable to secure insurance coverage for potential flooding. Realizing the vulnerability of Trouper's Bar, Andy, the Regional Manager of FSB Insurance Service in Scotland, recommended considering a FloodFlash policy as a supplement to the bar's existing insurance. This innovative policy would help mitigate the risk of future flooding and protect Simon's business.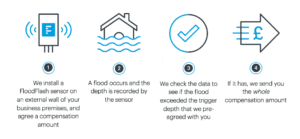 Why Trouper's Bar Chose FSB Insurance Service:
When Simon approached FSB Insurance Service, he was impressed by their expertise and commitment to finding a solution for his specific needs. Andy discussed various options with Simon, and together, they decided to install a FloodFlash sensor that would trigger payments at different depths of flooding. This customized approach ensured that Trouper's Bar would receive financial support promptly in the event of flooding.
How FSB Insurance Service Responded:
Shortly after the installation of the FloodFlash sensor, tragedy struck again. In the early hours of August 12th, floodwater reached the agreed trigger depths. Within hours, FloodFlash confirmed the payout, and the following morning, the full compensation was in Trouper's Bar's bank account. This efficient and seamless process significantly alleviated the burden on Simon, allowing him to focus on the recovery of his business.
The Results:
Simon expressed his satisfaction with the process, highlighting the instant payment received from FloodFlash without the need for further communication. The speed and ease of the payout exceeded his expectations, providing much-needed relief during a challenging situation. Andy, the Regional Manager, also commended FloodFlash for their commitment to a hassle-free settlement, appreciating the positive impact it made on Trouper's Bar's recovery.
FSB Insurance Service understands the unique insurance needs of businesses facing high-risk scenarios like flooding. If you require assistance with flood coverage, covering high excesses, or temporary relocation during insurance claim resolution, consider the benefits of a FloodFlash policy.
For more information, contact FSB Insurance Service at 020 3883 7976, Monday to Friday, 9 am to 5.30 pm. Fill in the form below to request a call-back from our knowledgeable advisors who are ready to assist you in protecting your business against unforeseen events.